California's premier cheese and wine event, the California Artisan Cheese Festival, is back for its 12th year, March 23-25, 2018, at its new location, the Sonoma County Fairgrounds in Santa Rosa. The beloved festival, which attracts more than 2,500 guests, brings together artisan cheesemakers, vendors, authors, chefs, brewers, winemakers and turophiles for three days of 
cheese tasting, education and celebration. Throughout the weekend, cheese enthusiasts have the opportunity to experience new, limited-production, and rare artisan cheeses, and learn about the art of making cheese—all while supporting California farmers and cheesemakers. The three-day public event includes cheese tastings, pairings, seminars and demonstrations, farm and creamery tours, and a culinary competition. Tickets go on sale January 1, 2018, and are available at www.artisancheesefestival.com.
"The California Artisan Cheese Festival has become one of the most anticipated annual events for cheese lovers and foodies in the San Francisco Bay Area and beyond," said Judy Groverman Walker, executive director of the Festival. "It's thrilling to have grown the Festival to the point where it makes sense to move to the Santa Rosa County Fairgrounds, bringing thousands of excited visitors to a community recently devastated by wildfires. We're partnering with local first responders as judges for the Best Bite competition. And, we'll be able to accommodate larger crowds for the incredibly popular Marketplace. This year's festival will no doubt be the best yet."
 
The 2018 schedule includes the following events:
Friday, March 23:
Farm, Creamery & Artisan Tours
8:30 a.m. to 3:30 p.m. 
Various Locations
Tickets: $100, $135
Back by popular demand, the intimate Artisan Tours will be held at various local farms, creameries and artisan purveyors, giving visitors a glimpse into the important role of the farmer and where cheese gets its start. Guests will be guided on behind-the-scenes walking tours where they can learn how cheese and other artisan products are made, meet the producers, farmers, and cheesemakers behind their favorite local products and, of course, taste the fruits of their labor. The tours will feature an educational component, such as a discussion or tasting led by an industry expect providing insights and further exploration on a variety of topics about cheese. Most tours include round-trip transportation from the Sheraton Sonoma County, cheese tastings, and lunch. Participants include Achadinha Cheese Co., Adobe Road Winery, AppleGarden Farm, Bleating Heart Cheese, Bohemian Creamery, Cowgirl Creamery, Lagunitas Brewing Company, Marin French Cheese, McEvoy Ranch, Nicasio Valley Cheese, Orland Farmstead Creamery, Pedrozo Dairy & Cheese, Pennyroyal Farm, Point Reyes Farmstead, Sonoma Portworks, Straus Home Ranch, Tomales Farmstead Creamery, and Wm. Cofield Cheesemakers, among others.
The Best Bite Competition – A Tribute to First Responders 
6 to 9 p.m. 
Sonoma County Fairgrounds, Hall of Flowers
Tickets: $80
Cheesemakers, chefs and cheesemongers share the stage with California's first responders at Friday night's Best Bite Competition. This year's competition, which showcases more than two dozen cheesemakers, two dozen chefs and two dozen mongers, pays tribute to the brave men and women who risked their lives during California's destructive fire storms in October 2017. Attendees will meet these local heroes as they take on the role of judges during this light-hearted yet energetic competition to see who can create the best bite using California artisan cheese. Each cheesemaker is paired with both a cheesemonger and chef. These professionals will create a delectable bite featuring their cheesemaker's cheeses, all accompanied by regional artisan wine, cider and beer. This interactive, fun night of great cheesey nibbles culminates in guests voting for their favorite cheese creation and an exciting awards ceremony. Everyone is encouraged to bring their appetites to this not-to-be-missed event.
Saturday, March 24


Seminars, Education, and Pairing Demos 
9:30 to 11 a.m., 12 to 1:30 p.m.,
and 2:30 to 4:30 p.m.
Sonoma County Fairgrounds
Tickets: $75
At a variety of interactive seminars and demos, cheese lovers have an opportunity to learn from some of the industry's most knowledgeable industry experts, chefs and cheesemakers. The seminars range from pairing cheese with charcuterie and beer to exploring the palate and learning how to judge cheese like the experts. Confirmed instructors include prominent cheese writer and author Janet Fletcher; winemaker Arnaud Weyrich of Roederer Estate, California's premier sparkling wine producer; renowned cheese expert Juliana Uruburu; Master Cicerone and Brewmaster Rich Higgins; American Cheese Society (ACS) Certified Cheese Professional® and seasoned specialty food aficionado Vanessa Chang; Cheese Twins Charlie and Michael Kalish; past judge of the International Cheese Awards, the World Cheese Awards, and the Global Cheese Awards Michael Landis; and Debra Dickerson and Peggy Smith of Cowgirl Creamery.
Cheese & Cocktails 
5 to 7 p.m. 
Sonoma County Fairgrounds, Saralee & Richard's Barn
Tickets: $45
Start off the night with two hours of fun artisan cheese and cocktail tasting. Cheesemakers showcase some of their favorite cheeses while local craft distilleries share samplings of their best spirits, both as straight pours and mixing them into cocktails, for guests to discover and enjoy. Cheesemakers will be on hand sampling their favorite cheeses to pair with spirits and discover the Fantasy Cheese table – a plethora of artisan cheeses complete with assorted crackers, charcuterie and accoutrements to discover. This event presents the perfect opportunity to sample, compare, and pair some of California's best cheeses and spirits.
Sunday, March 25
Bubbles and Brunch 
9:30 to 11 a.m.
Sonoma County Fairgrounds, Saralee & Richard's Barn 
Tickets: $125
The early riser gets an amazing brunch and coveted advance entry into the Artisan Cheese Tasting and Marketplace. Enjoy a Sunday brunch celebrating cheese at every course while being entertained with a live cooking demonstration. Tickets include brunch, sparkling wine and early entry into the Artisan Cheese Tasting & Marketplace at 11 a.m. before it opens to the public at 12 p.m.
Artisan Cheese Tasting & Marketplace
12 to 4 p.m. 
Sonoma County Fairgrounds, Hall of Flowers
Tickets: $50 for adults, $25 for children 12 and under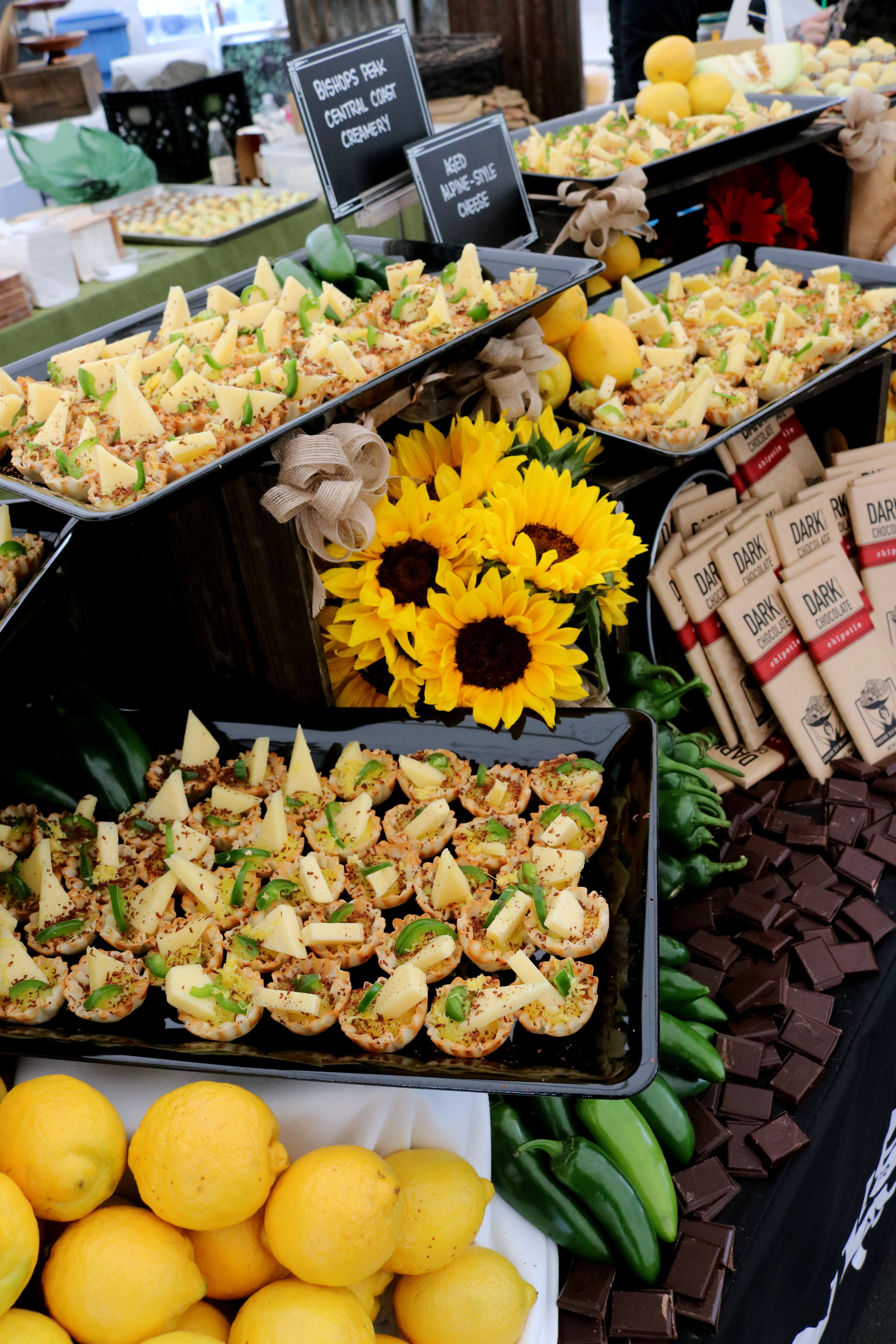 The grand finale of the festival, the Marketplace brings together more than 115 artisan producers of the best local cheese, wine, beer, ciders and other specialty foods. Guests are invited to taste, discover and buy new cheeses and the next wave of interesting cheese accompaniments, and artisan products that complement cheese. Tickets includes admission, author book signings, the cherished Artisan Cheese Festival insulated cheese tote bag, and a festival wine glass.
For more details about the California Artisan Cheese Festival and to purchase tickets, visit www.artisancheesefestival.com.
Generous sponsors of the California Artisan Cheese Festival include American AgCredit,  Beehive Cheese Company,  Bellwether Farms, Cowgirl Creamery, Culture Magazine, Cypress Grove, Edible Marin & Wine Country, Lagunitas Brewing Company, Marin French Cheese Company, Nicasio Valley Cheese Company, Pennyroyal Farm, Point Reyes Farmstead Cheese Company, Pure Luxury Transportation, Real California Milk, Rustic Bakery, Hotel Petaluma, Sheraton Sonoma County – Petaluma, Valley Ford Cheese & Creamery, Whole Foods Market, and Wild California.
About California Artisan Cheese Festival
A 501 (c)(3) non-profit organization, the California Artisan Cheese Festival strives to increase cheese appreciation, educate consumers about artisan cheeses, support the cheesemaking community and its sustainability and celebrate the creations of California's many farmers and cheesemakers. The festival began in March 2007 as the first-ever, weekend-long celebration and exploration of handcrafted cheeses, foods, wines and beers from California and beyond.  In keeping with its dedication to the community, the Artisan Cheese Festival has donated more than $105,000 in grants to local nonprofit partners that support local sustainable agriculture including the California Artisan Cheese Guild, Sonoma Land Trust, Marin Agricultural Land Trust (MALT), the Redwood Empire Food Bank and the Petaluma Chapter of the Future Farmers of America. For more information about the California Artisan Cheese Festival, visit www.artisancheesefestival.com or follow them on Facebook, Instagram and Twitter.